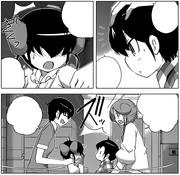 Yuuko Ayukawa is the mother of Tenri Ayukawa. She is friends with Mari Katsuragi and due to this, introduced her daughter Tenri to Mari's some, Keima Katsuragi. Yuuko and Tenri later moved away.
During the Childhood Friend Arc they both visit the Katsuragi Household (moving in next door once more) and reunite with Keima and Mari at the start of summer vacation.
Ad blocker interference detected!
Wikia is a free-to-use site that makes money from advertising. We have a modified experience for viewers using ad blockers

Wikia is not accessible if you've made further modifications. Remove the custom ad blocker rule(s) and the page will load as expected.