Volume Ten is the 10th volume of The World God Only Knows.
Synopsis
Keima faces the predicament of being a girl, while his current capture target, Yui Goidō, is inside his body. Seeing that it will be hard to capture by being a girl, with the help of otome games, Keima is able to make Yui 'capture' him. But within Yui was a level 4 spirit, a spirit that is independent enough to be able to talk and think individually. In the end though that spirit is captured by an unknown someone. Keima's next capture is Kusunoki's older sister, Hinoki Kasuga. He watches Hinoki, seeing her grow large because of the spirits powers. For now, he's the only one who can see her in such a state. But what is causing the gap in her heart...?
Chapters List
Volume Extras
Maijima School Uniform (winter and summer version) Illustration
Character Profiles (with author's memo)
On cover, Hinoki and Kusunoki with short background info about Hinoki
Bonus illustration
Character 4-koma
Omake
Special Cover
A special cover was made for a limited edition set for volume 10. In the set is the volume with the special cover and a DVD that includes a commentary, between the seiyu for Elsie and Keima, and Episode 0. On the special cover is Kanon, Shiori and Ayumi, respectively from left to right. On the back of it is Chihiro, Elsie and Mio.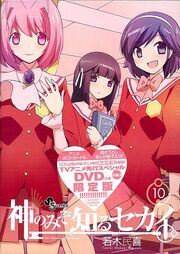 Differences from the tankoubon chapter
Flag 90:

Elsie's runaway spirit sensor omitted, because it is in her hands. (Page 13 - Third panel)
Elsie's shoes colored black. (Page 13 - Second-last and last panel)
Elsie's celestial robe omitted, because it was still in Hinoki's possession. (Page 14 - Second panel)

Flag 91:

Elsie's celestial robe omitted. (First page - Second panel)

Flag 93:

The chapter title's format changed.
Hinoki's face layout slightly changed, a bit more elliptic than the original. (Page 9 - fifth panel)

Flag 95: Chapter title is "Sister Secret", while the original is "Sister Naked".
Flag 96:

Chapter title is "Sister Naked". while the original is "Sister Giant"
Below the panel there's Elsie saying "Clothes store~~?" in response to Keima. (Page 5 - Fourth panel)
Omake Synopsis
The World the Lil' Devil Only Knows II
Synopsis
In the panel, Mari complimented Elsie that she was such a hard worker and she wondered if she should pass the store to Elsie. Mari then asked why Elsie was wearing newspapers on her back, which Elsie replied that she wanted her hagoromo back. When Elsie and Keima went outside, Elsie saw a lot of kites, giving her the idea that she could fly with those, which Keima replied that she wouldn't.