Adminstrator

Ma Boss Shiyu is an Adminstrator of the The World God Only Knows Wiki.
Ma Boss Shiyu was featured in the User Spotlight

This user was featured in the User Spotlight in the month of May - June 2012
Chapter Summary Project

Ma Boss Shiyu is a part of the chapter summary Project
Ma Boss Shiyu

馬 "ボス" 詩彧


Uma "Bossu" Shiyu
Character Information
Title

Senior Editor of TWGOK wikia
Right Hand of P-man
Nanadaime Administrator

Gender
Male
Age
17
Date of Birth
June 14
Team

TWGOK wikia
P-man Labs
Pedobear Community

Weapons
Law
Equipments
Cellphone, PC, Laptop.
Blood Type
A
Weight
56kg
Job

Wikia Contributor
Vice-President of the Pedobear Community

Aliases
About me
I'm a big fan of the TWGOK series.
I'm pretty much a jack-of-all trades here (and a master of none XP), I've done pretty much everything in the wikia. (Except songs. Cause I'm bad at songs.)
If there are any criticisms you want to give me, be my guest since experience is the name every one gives to their mistakes!
Active Days
Mondays to Fridays are the most active.
Saturdays are rest days for me.
As of Sunday, it will be semi-active depending on the wiki activities.
Contact
If you wanna talk to my boss, P-man, go here.
If you want to request for a new article or something similar, go here : Forum:Request for New Articles.
If there seems to be a problem in my account, please go to the secondary one here.
If something is really urgent and you need to see me immediately, please leave a message at my message wall with a time span so we can arrange for a wiki chat.
Inspirational Poem
Click to view 
If you think you are beaten, you are:
If you think you dare not, you don't
If you like to win but think you can't
It's almost a cinch you won't.
If you think you'll lose, you're lost:
For out in the world we find
Success begins with a fellow's will
It's all in the state of mind.
If you think you're outclassed, you are:
You've got to think high to rise,
You've got to be sure of yourself before
You can ever win a prize.
Life's battles don't always go
To the stronger or faster man;
But sooner or later the man who wins
Is the man who thinks he can.
-Anonymous"
(Taken from FoOlRulez Scans)
More Stuff about me: (For those who care)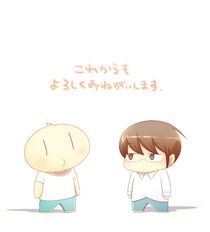 Nationality: Chinese
Citizenship: Singaporean
Fav Food : Shepard's Pie, Salads
Least Fav Food: Shashimi, Raw meat/seafood, medium rare-meat dishes
Fav Drink : Tea
Bloodtype: A
Occupation: Being a Pedobear
Things I've done in the wikia
Achivements




Retirement
Bye guys.
Others
Pedo Bear

Ma Boss Shiyu is a high level Pedo Bear.
Editorial Department

Ma Boss Shiyu is the head of the Editorial department. They are responsible for making and updating wiki articles of Characters, Locations and Story Arcs
Light Novel Project

Ma Boss Shiyu have greatly contributed in the TWGOK Light Novels
| | |
| --- | --- |
| | Otoshigami devotee |