Home
Talk

0
547pages on
this wiki
Welcome to the The World God Only Knows Wiki
The World God Only Knows (神のみぞ知るセカイ Kami nomi zo Shiru Sekai), often abbreviated as Kaminomi (神のみ) in Japanese and TWGOK in English, is a manga series written and illustrated by Tamiki Wakaki and published in the Weekly Shōnen Sunday magazine. It follows the life of Keima Katsuragi, an avid player of galges (dating simulation games), whose skills and website have given him internet fame as the "Capturing God". However, he has rejected reality in favor of the world in those games, and is known as "Otamegane" in his school. When Keima unwittingly signs a contract with Hell he is forced to assist Elsea de Lute Irma, a Demon, to capture evil spirits which have escaped from Hell, or else he has to face death. As the escaped spirits are hiding within 'gaps' within the hearts of girls caused by negative emotions, he must use his skills with gal games to replace those emotions with love. This wiki already has 52,653 edits and a total of 547 articles ever since its founding in July 2010. This wiki contains more information about the series than other TWGOK Wiki's out there.
---
The Kaminomi-Arena

We were able to get much appreciated support from our fans and get results that should please the community. Some results were unexpected, others much foreseen. Candidates Akari, Haqua, Apollo, Minerva, Mercury, and Diana will move on victorious to the next round.

To all those who love the Arena, we now apologize, but the heat of battle has died as the surround circumstances have made it difficult to host the event. Voting for the latest contestants are still open, but the next session will return when peace returns. We thank you all for your patience.

---
Featured Article of the month

Summary: Shoutaro Shiratori, an elderly man who looks quite young and is the current head of the Shiratori family household during the Heart of Jupiter arc. He is also the president of the Shiratori company therefor.

He is a rather proud man, gloating about how the Shiratori household used to own the entire city of Maijima. But with this pride, it is revealed that he also has the responsibility of defending the island from the devils, or more specifically the evil kind of devils such as Vintage.

Vote for the Next Article
Read More
Latest Manga Chapter

Chapter 225: Cooperation

---

Summary: While Dokuro (Skull) tells Keima to change the past to match the future, Keima then said that he is writing down what he know and showed Dokuro his events. Dokuro then asked what happens after her turned 17 as Keima said that he'll tell her another time.

Dokuro (Skull) then told Keima that there isn't a need for that as Dokuro (Watchman) and her are basically one soul and body so whatever Keima said will be transferred to her. Keima and Dokuro the flew to the Shiratori household as Dokuro (Watchman) apologized.

Keima asked why is Dokuro (Watchman) apologizing as Dokuro (Watchman) said that it's because she dragged him to this mess as Keima said that the the one being dragged is being dragged by him and the past has become the future and the result has become the cause. Just like the Ouroboros.....

Want a more detailed summary?
Want to check more chapters??
Latest Anime Episode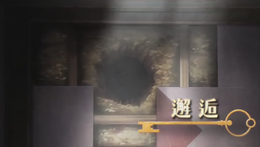 Flag 27 (Tenri-hen OVA): Encounter
Summary: Floating on top of Maijima Private High School, Nora, with a giant mace, is looking for Keima and Tenri. She instructed Ryō to continue their search and states that she'll finish off Keima and flies away as Ryō struggles to keep up. At the same time, Keima and Tenri are in the small cave as Tenri said that they'll reach the surface as Keima recalls parts of his past.

~~Ten years ago~~

A younger Keima leaves his house as his mother, Mari told him not to offend anyone or say bad words. Keima merely said a "hmph" and walked on as Mari told him to watch where he is walking. At the same time, Tenri's mother, Yuuko Ayukawa came up and gave Tenri her bento (lunch box)and reminded her daughter not to be so absent-minded.

Yuuko then said her good-mornings to Keima as Keima responded with a "Hmmm" before leaving as Mari came up and angrily told Keima to show more respect but soon, the two mothers were happily chatting away. Soon, Tenri followed Keima to school.
Want a more detailed summary?
Want to check more episodes???
Latest Volume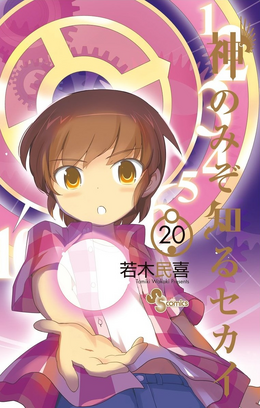 Released on: December 18, 2012
After finally stopping Vintage, Keima has finally returned back to his old life of gaming as his mother, Mari, also returned from America. Haqua was able to return to the ranks of the Runaway Spirit Squad while Nora received her share of fame, being promoted to head district chief. But as he arrived at school, a strange event occurred to Keima. Each time he entered, the school setting would be warped, such as the school turning into an all-girl's school or all the Goddess hostesses ambushing him with proposals. And each and every time, at the end, he would find himself bad at the entrance.....
Know more about the latest volume here !