Paint It Blank is the 260th chapter of The World God Only Knows.
Synopsis
As the colossi destroy
Akanemaru
,
Lune
is laughing, while
Dokuro
is pleading for them to stop. The tunnels beneath cave in onto the
goddess
hosts. The time travel device falls into the water and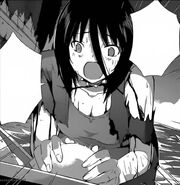 Dokuro holds onto it, attempting to contact
Keima
in the past.
In the past, Elsie is drinking despite Keima urging her to hurry up, when they notice something from the steering room. They run over there and hear Dokuro talking from the other side, telling them the machine is broken. As Keima yells for more explanation and grandpa Shiratori yells for the goddess hosts to hide, the time machine is stomped on by a colossus and Dokuro's white orb breaks.
The world apparently ceases to exist and Tenri wakes up in the middle of blank space.
Trivia
This chapter's title is a reference to a song from The Rolling Stones.
References
Ad blocker interference detected!
Wikia is a free-to-use site that makes money from advertising. We have a modified experience for viewers using ad blockers

Wikia is not accessible if you've made further modifications. Remove the custom ad blocker rule(s) and the page will load as expected.