Look Back in Anger is the 119th chapter of The World God Only Knows.
Synopsis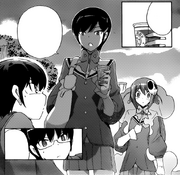 After seeing Elsie doing her best to be exactly the same as Kanon, Haqua angrily asks why she has to wear the uniform: After all, she is a district chief. Keima then warns her that she might draw attention if she were walking in her regular clothes. Haqua remarked about that she doesn't want to get command by Keima. Haqua told Keima that she has casted an optical illusion spell to be like Elsie at school, then asked how they would find the Goddesses. Keima then tells her that there is no single lead and that the goddess were hidden in the bodies of the girls he had conquered. Haqua then asked him how he knew for sure that the goddess were hidden in the body of the girls which Keima had conquered. Keima said that two was enough (in games) to prove anything, and Haqua told him if they would gather she could communicate with them. When they have entered school, they saw that the whole school was wildly drawn to Keima after what happened between him and Kanon. Chihiro then appeared, and spills her coffee on purpose on Keima's head. Keima then began telling Haqua that there was a goddess inside Chihiro.
As Keima and Haqua conversed, Ayumi suddenly appeared, colliding with Keima. Ayumi then added -Kun to Keima's last name, which totally surprised him. Ayumi then kicked Keima out of the way and entered with a blush on her face as she took her seat in class. Keima then began to think that there was also a goddess in Ayumi, until he was interrupted by Nikaido, who stepped on Keima's face and told him that class had started.
Trivia
Look Back in Anger - sung by David Bowie and Brian Eno
References
Ad blocker interference detected!
Wikia is a free-to-use site that makes money from advertising. We have a modified experience for viewers using ad blockers

Wikia is not accessible if you've made further modifications. Remove the custom ad blocker rule(s) and the page will load as expected.