Last Dance

Info
Kanji Title
ラストダンス
Romaji Title
Rasuto Dansu
English Title
Last Dance
Song Type
Jpop
Character
Mio Aoyama
Seiyū
Aoi Yuki
Album
Kaminomi Character CD Song- Track 2
Release Date
November 24, 2010

Last Dance is an original song sung by Aoi Yuki as Mio Aoyama.
Lyrics
| Japanese/Kanji Lyrics | Romanized Lyrics | Translated Lyrics |
| --- | --- | --- |
| 見上げた夜空には 幾千の星が | miageta yozora niwa ikusen no hoshi ga | In the night sky, I look at the many stars |
| 生まれて ひとつ消えてく | umarete hitotsu kieteku | One is born, another disappears |
| 秘密も 約束も 気づけば あいつは | himitsu mo yakusoku mo kizukeba aitsu wa | When he knows our secrets and promises, he is |
| ちゃんと 守ってくれてるのに... | chanto mamotte kureteru no ni... | Properly keeping them.... |
| | | |
| ふいに ふっと視線が合うたび ゆらゆら今 もどかしく揺れる心 | fui ni futto shizen ga autabi yura-yura ima modokashiku yureru kokoro | Suddenly when our eyes meet, my heart is impatiently swaying |
| どうして ステップも知らず いきなり踏み込むの? | doushite SUTEPPU mo shirazu ikinari fumikomu no? | How did you, without knowing the steps, get the grip of the dance? |
| | | |
| 今夜だけは 特別なパーティーだから 踊り方を 教えましょう | konya dake wa tokubetsuna PAATII dakara odorikata o oshiemashou | Because it's a special party only for tonight, I'll show you how to dance |
| めくるめく 優しい記憶に包まれ ずっと踊っていたい | mekurumeku yasashii kioku ni tsutsumare zutto odotte itai | Twirling, embraced by the nice memories, I want to dance forever |
| | | |
| あの日の想い出が ほんの少しずつ | ano hi no omoide ga hon no sukoshizutsu | There's only a small bit of the memories of that day |
| 小さく 遠ざかってゆく | chiisaku toozakatte yuku | It becomes smaller and more distant |
| 時間も 面影も 鮮やかなままで | jikan mo omokage mo azayakana mama de | The time and your face stays vivid |
| そっと 胸の奥 しまってたのに... | sotto mune no oku shimatteta no ni... | Though I slowly closed my heart up... |
| | | |
| 手と手握って 瞳を閉じれば ドキドキ今 重なり合ってく鼓動 | te to te nigitte hitomi o tojireba doki-doki ima kasanari atteku kodou | If I close my eyes while our hands are together, my heart throbs as it gets heavier |
| どうして 涙一粒 こぼれ落ちてゆくの... | doushite namida hitotsubu kobore ochite yuku no... | Why is it that I have shedded a tear... |
| | | |
| 今夜だけの 最高のパーティーだから ふたりきりで 踊りましょう | konya dake no saikou no PAATII dakara futari kiri de odorimashou | Because it is the best party tonight, let's dance together alone |
| めくるめく あふれる想いを抱きしめ もっと踊っていたい | mekurumeku afureru omoi o dakishime motto odotte itai | Twirling, I want to dance more while embracing the overflowing feelings |
| | | |
| きっと これが もう最後のパーティーだから ラスト・ダンス 踊りましょう | kitto kore ga mou saigou no PAATII dakara LASUTO DANSU odorimashou | Because this is surely our last party, let's dance this last dance |
| ずっと一緒にいたい...と 初めて感じた 素直に言えないけど... | zutto isshou ni itai...to hajimete kanjita sunao ni ienai kedo... | I want to be with you always...but for the first time, I can't say it honestly... |
Listen Now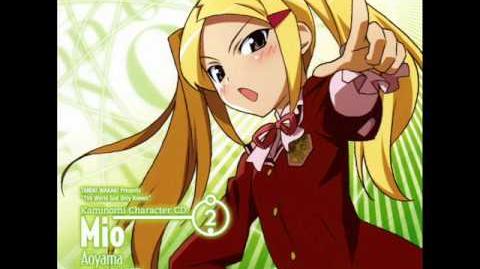 Ad blocker interference detected!
Wikia is a free-to-use site that makes money from advertising. We have a modified experience for viewers using ad blockers

Wikia is not accessible if you've made further modifications. Remove the custom ad blocker rule(s) and the page will load as expected.