Nakagawa 2012 Concert : Ribbon Revolution
is a live album release from the first concert of Kanon Nakagawa starring
Nao Toyama
. It was held at Hibiya Public Hall on February 12, 2012. Songs are included on 2 CDs.
Information
Release Date: May 30, 2012
Publisher: Geneon Universal Entertainment
Release Price:

¥3,150 (2CD)
¥7,140 (2CD+BD)
¥6,090 (2CD+DVD)
Tracklist
Disc 1
Prologue~Date of Birth
MC~Yokoso 1st Concert!
MC~Guest appearance!
MC~Kanon-chan no Three sizes
MC~Kanon & Haqua
Disc 2
MC~Koko kara ga dainimakudesu
MC~Uketomete Valentine !
MC~Koko ni tsudou kiseki
MC~Hibiyakoukaidou wo seiatsu shimashou!
MC~Call Kanon
MC~Taisetsuna……
MC~Kanon with Keima & Haqua, Elsie
Kanon BAND Members Shoukai
Epilogue~Birth
Message from Nao Touyama (BONUS)
Full Concert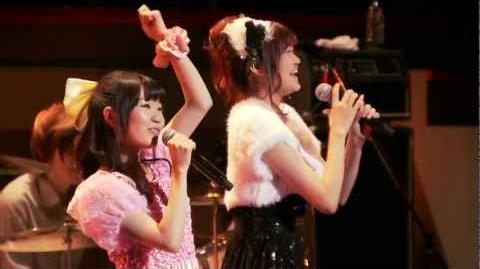 Ad blocker interference detected!
Wikia is a free-to-use site that makes money from advertising. We have a modified experience for viewers using ad blockers

Wikia is not accessible if you've made further modifications. Remove the custom ad blocker rule(s) and the page will load as expected.